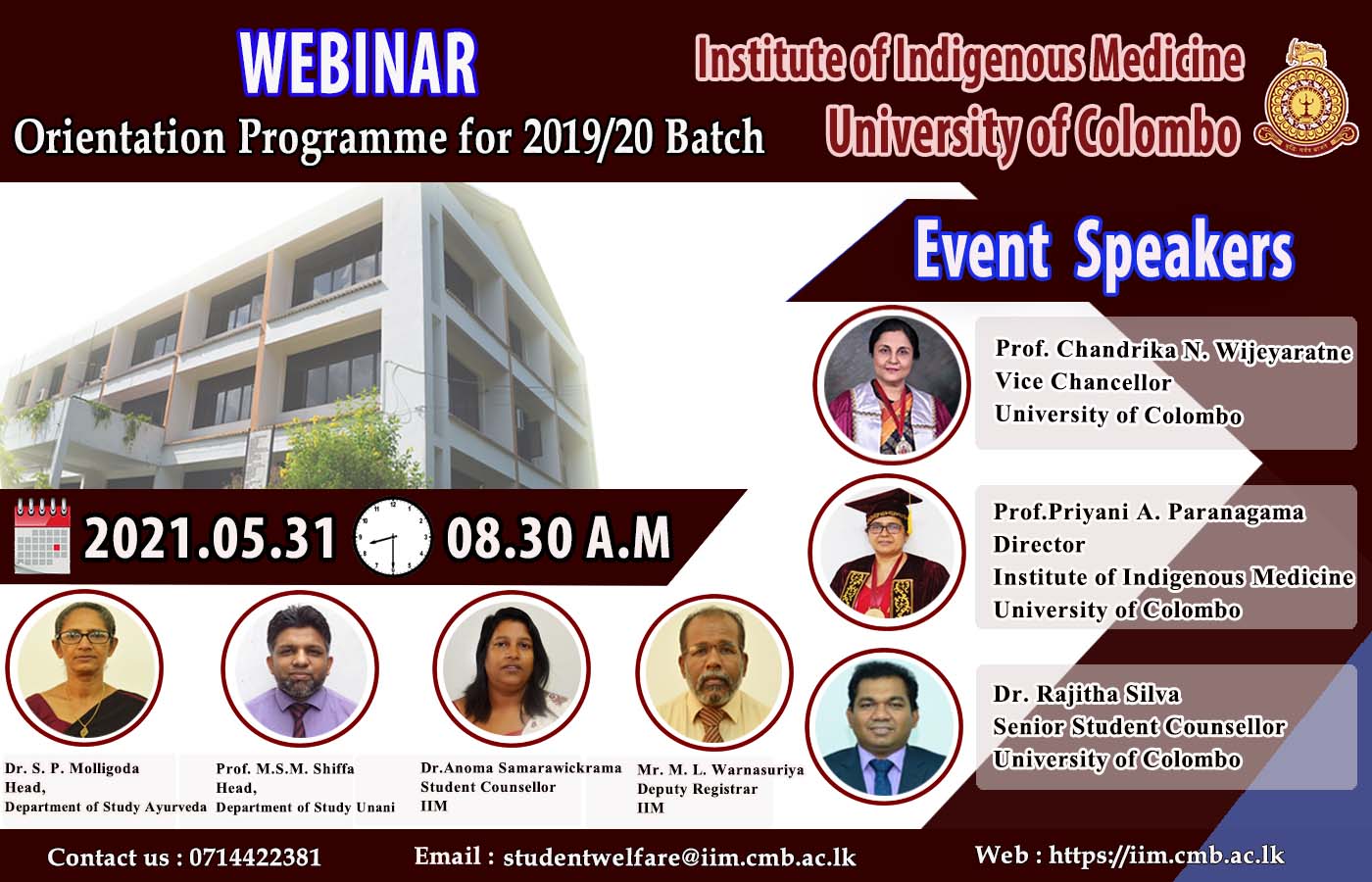 INAUGURATION CEREMONY OF THE ORIENTATION PROGRAMME 2019/2020 – IIM
It is with great pleasure to announce the inauguration ceremony of the Orientation program for the new entrants of 2019/2020 batch of Institute of Indigenous Medicine (IIM), University of Colombo was successfully completed as Webinar on 31st May 2021.  It was decided to organize the orientation program as a Webinar to the new students who registered for BAMS/BUMS degree programmes due to prevailing third wave of the COVID 19.
The welcome speech was delivered by the Director of the Institute of Indigenous Medicine, University of Colombo Senior Professor P.A. Paranagama. The keynote speaker for the event was the Vice-chancellor, University of Colombo, Senior Professor Chandrika N. Wijerathne enlightened the audience with her words of wisdom. Senior Student counselor, University of Colombo, Dr Rajitha Silva, explained services rented by students' counselors and students' welfare. Head of the Department of study in Ayurveda, Dr.SP Molligoda and Head of the Department of study in Unani, Prof. M S M Shiffa and Deputy Registrar / IIM, Mr. Lalith Warnasuriya were also address in the programme. The vote of thanks was delivered by Assistant senior student counselor, Institute of Indigenous Medicine, Dr.Anoma Samarawikrama.
237 students registered for the orientation programme 2019/2020. 229 students participated in the inaugural event. The Vice Chancellor, University of Colombo and the Director/ IIM thanked the organizers of the event, coordinator/Ayurveda, Senior lecturer Dr. Kaumadi Karunagoda, coordinator/Unani, Lecturer, Dr. AA Rizwana, Staff of IT, Mr A. K. Lahiru Chamara, Mr. Ruwan Kohombakanda, Mrs. Nalandra Balasuriya, Mr Buddika M. Rajaguru, and AR/Student Welfare, Mrs. Shiromi Gomes and  Management Assistant,  Mr. GG Prasanna Weerasinhe  and also  the presenters, Dr. NVY Diloopa ,Dr.MNF Nafla and Mr. Charit Minipuraarrachi  for their team effort to make this event a success.