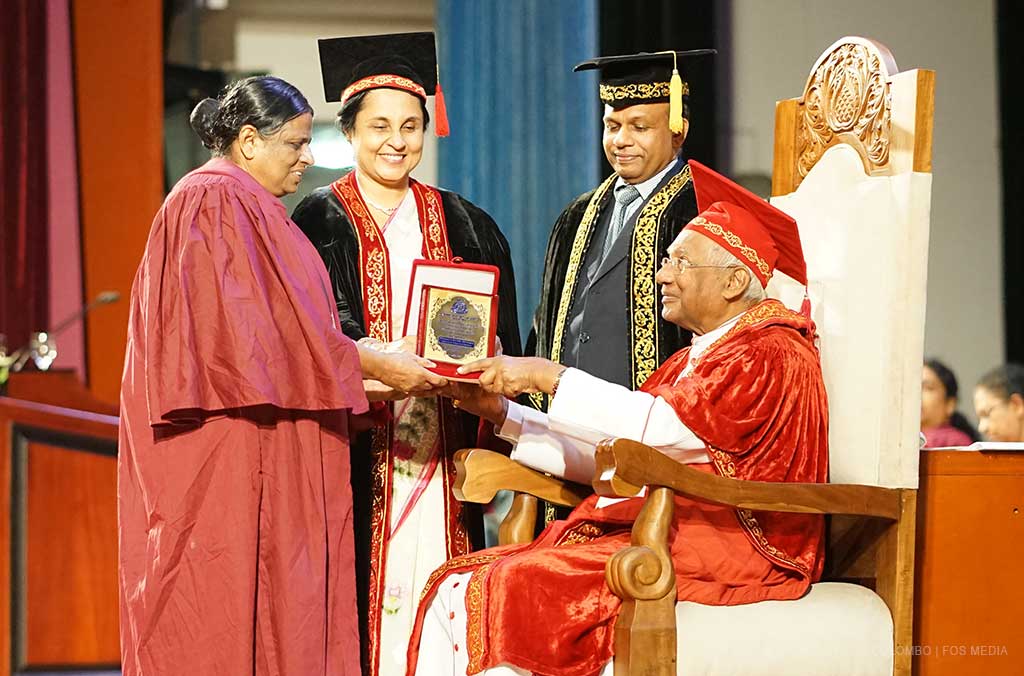 Prof.E.R.H.S.S.Ediriweera Vice Chancellor's Awards for Research Excellence 2018
The Vice Chancellor's Awards for Research Excellence 2018, are presented during the Postgraduate Convocation 2018 on 6th of December 2019 at the Bandaranaike Memorial International Conference Hall for the contributions made by the senior academic staff in their outstanding research works.
Senior Professor E. R. H. S. S. Ediriweera achieved the research award for Vice Chancellor's Awards for Research Excellence 2018.
……..
About Senior Professor ERHSS Ediriweera
Senior Professor ERHSS Ediriweera was born in 1955 and educated at Visakha Vidyalaya, Bambalapitiya. She entered the then Government Ayurveda College; now Institute of Indigenous Medicine, Rajagiriya, in 1976 and obtained DAMS with a class pass from University of Colombo in 1981. In 1984, she joined the Department of Ayurveda as a medical officer. She was awarded WHO fellowship in 1986 to study quality control of Ayurveda drugs at Banaras Hindu University, Varanasi, India. Having joined Institute of Indigenous Medicine, University of Colombo 1990 as an Assistant Lecturer, she won a commonwealth scholarship to complete Postgraduate studies and obtained the degree Doctor of Medicine Ayurveda in Kayachikithsa with specialization in Panchakarma from Banaras Hindu University, India in 1993. She obtained her Doctor of Philosophy from University of Peradeniya. She is also accredited as a teacher in Higher Education by Staff Educational Development Association (SEDA), United Kingdom.Dr. Sujatha Ediriweera was promoted to the post of professor in 2009 and to the Post of Senior Professor in 2017. She is the first female Professor and Senior Professor of Ayurveda in Sri Lanka. Senior Professor Ediriweera is a Consultant physician in Panchakarma and Kayachikithsa at Ayurveda Teaching Hospital, Borella. She has held various offices at IIM including Head of Department, Chairperson of Board of Studies (2012/2015) and has served as a visiting lecturer at Gampha Wickramaarchchi Ayurveda Institute, University of Keleniya and Department of Siddha Medicine, University of Jaffna. She has supervised more than 15 Postgraduate students who are studying for MD, MPhil, Postgraduate Diploma in Ayurveda. Senior Professor Ediriweera has presented and published more than 170 abstracts in International and National seminars. She has also published 80 clinical, animal and parasitological researches in local and International peer reviewed indexed journals. Most of them are clinical researches based on the field of Panchakarma. She is serving as chief editor, member of editorial board in several International and local journals.
View Profile : View Profile