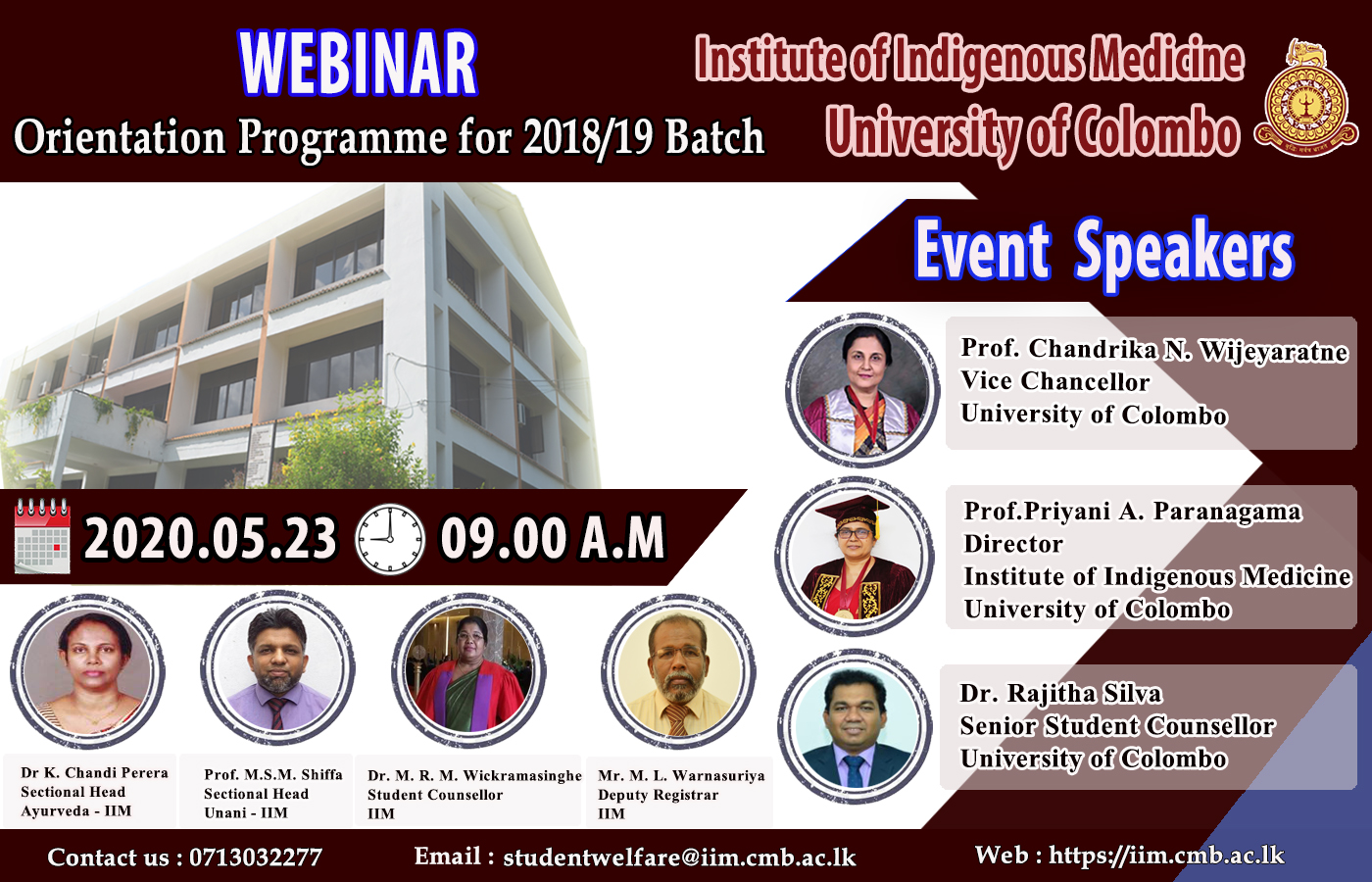 Inauguration Ceremony of the Orientation Program Webinar : Institute of Indigenous Medicine, University of Colombo
---
We are happy to announce the inauguration ceremony of the Orientation program  for the new entrants of 2018/2019 batch of Institute of Indigeous Medicine (IIM), University of Colombo was successfully completed as Webinar on 23rd May 2020. This event is a Landmark for the IIM as well as the University of Colombo since this is  the first time in history the University of Colombo organized an Inauguration Ceremony of the orientation program for the new entrants of 2018/19 via Webinar. It was decided to organize the orientation program as a Webinar to minimize the impact of the global pandemic, COVID-19 outbreak to the new students who registered for BAMS/BUMS degree programs.
The welcome speech was delivered  by the Director of the Institute of Indigenous Medicine, Senior Professor P.A.Paranagama, University of Colombo. The keynote speaker for the event was the Vice-chancellor, Senior Professor Chandrika N.Wijerathne , University of Colombo enlightened the audience with her words of wisdom. The participants of the event were also addressed by, Senior Student counselor, University of Colombo, Dr Rajitha Silva, Heads of Department of the study in Ayurveda, Dr K.C Perera and Department of the study in Unani, Prof M S M Shiffa and Deputy Registrar / IIM, Mr Lalith Warnasuriya. The vote of thanks was delivered by Assistant senior student counselor, Dr MRM Wikramasinghe  of the Institute of Indigenous Medicine at the end of the  Inauguration Ceremony.
Out of 228 registered students in 2018/2019 batch, 219 students participated in this event. The Vice Chancellor, University of Colombo and the Director/ IIM thanked the organizers of the event, specillay Dr EDT Priyanganie Gunarathna, members of the IT unit, Mr A. K. Lahiru Chamara, Mr Ruwan Kohombakanda, Mr Buddika M. Rajaguru, Mr J.P.K. Jayakodi and members of the Student Welfare branch and the administrative branch for their untiring effort to make this event a success. Finlay I would like to thank Dr W F, Shifka ,Mr P. G. Chamath Minipuraarrachi  and Mr K. M. Jansz, they collaborated to this event as presenters.  It was great to see so many candidates interested in participating in the event considering the situation of the country at present due to the outbreak of the global pandemic.
Click to view full event