About Us
We as the academic unit of Tahaffuziwa Samaji Tib(TST), (Preventive and Social Medicine, Unani) under the Unani section of Institute of Indigenous Medicine strives to maintain academic excellence in all areas of departmental study. The academic unit of TST also involves several other activities, such as conducting special OPD at Ayurveda Teaching Hospital Borella and health awareness and health promotion programmes under community engagement in various part of Sri Lanka. Following subjects are being taught from Level II BUMS to Level IV BUMS to meet the intended learning outcomes as per the curriculum. Core subjects are Research Methodology and Bio Statistics, Tahaffuziwa Samaji Tib, Community Medicine and Ilmus Sumoom. Herbal Beauty Culture and Drug Abuse Management as  optional subjects.
Field health activities and other students centered field programs:
According to the Level III of the BUMS curriculum the subject of Tahaffuziwa Samaji Tib (Preventive and Social Medicine, Unani) consists of community based health educational programmes focusing to identify the health related problems among the general public and to implement health educational interventions by engaging Level III BUMS students. Further Level III BUMS students participate in practical sessions by visiting water purification plants as well as at Slaughter house on hygienic meat production under the same subject.
Level IV BUMS students visit National Zoological Garden for practical training on identifying poisonous snakes under Ilmus Summom subject. Further the same Level IVBUMS student also engage in practical sessions at rehabilitation centers for drug addicts under the subject Drug abuse management.
Senior Lecturer Grade II
BUMS (Hons) (Colombo),
PG Dip in Toxicology (Colombo) ,
M Phil Unani (Colombo)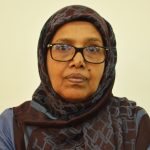 Lecturer (Head)

BUMS (Hons) (Colombo),
MD Unani (Tahaffazi wa Samaji Tib)(Rajiv Gandhi University of Health Science India,Benguluru)